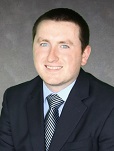 Sean Mulroe has been practicing tax accountant since 2014 after receiving his B.A. in Accounting from the University of Dayton. His focus has been working with closely held businesses and high net worth individuals.
Sean began his career with Wolf & Company, a public accounting firm working primarily in the Chicagoland area. Shortly after he began working with Wolf & Company, the firm merged into BKD, LLP, a top 15 national wide public accounting practice. Sean worked at BKD, LLP for three years working on tax compliance and consulting for a vast variety of clients. During his time at BKD, LLP, Sean worked closely with his clients on compliance issues as well as consulting on various tax planning and other business ideas. Sean has been with Wojcicki and Mulroe since September 2017 where he continues to utilize the knowledge he gained from a large national wide firm to help serve his clients.
During his time at BKD, LLP, Sean passed the CPA exam while also taking courses at DePaul University in pursuit of a Master of Science in Taxation degree.
Sean T. Mulroe, CPA
Partner
1834 Walden Office Square, Suite 500
Schaumburg, IL 60173
P: 847-907-4611
F: 847-637-0556
E: sean@wojco.com x110